There are several facial moisturizers in the market right now but which ones will really bring out your inner beauty? Let me help you figure out the best products that will match your skin type!

Beauty icons may naturally be beautiful. However, they also have to take great care of their skin and overall appearance. Their supple and soft skin can be achieved by eating properly, getting hydrated, and of course, using the right products for their skin type!
With the right facial moisturizers, lotions and scrubs, you can become as pretty as your beauty icon! But first off, let's take a look at the best kinds of moisturizers  for different types of skin.
13 Best Facial Moisturizers To Bring Out Your Inner Beauty
To become a beauty icon in your own right, you first have to choose the best facial moisturizer! You might be using a wrong one for your skin causing all the skin issues. If you want the best results, then you have to use the best products as well!
I've rounded up 13 of what I believe are the best facial moisturizers for several skin types. Find out which ones would be great for oily, dry or sensitive skin.
For just $29.99 a bottle, this moisturizer is perfect for damaged skin. It is lightweight, as well as fragrance and preservative-free! This has been a favorite for many makeup artists and I must admit I am also in love with this product!
If you're looking for a moisturizer that's best for dry skin, this is the product for you. At $33.17, it helps make your skin feel really moisturized and hydrated.
3. Yes to Cucumbers Daily Calming Moisturizer SPF 30
Recognized as the Best All-Natural moisturizer, it is living up to its name. It is ultra-hydrating, with soothing Aloe Vera and Cucumber – both are good for the skin. It also has SPF30, which uses Zinc, to protect you from harmful UV rays. What's great about this product is its affordability.
4. CeraVe Moisturizing Facial Lotion PM
Suffering from dry or sensitive skin?  Then, CeraVe Moisturizing Facial Lotion PM just might be the overnight moisturizer for you. The best thing about this product? It's really affordable at only $6 a bottle!
5. Laura Mercier Tinted Moisturizer
It's no wonder Laura Mercier Tinted Moisturizer is a best-seller. Aside from being a great hydrating lotion, it also has a beautiful tint on it. It looks dewy when applied and gives you great coverage – just like hitting two birds with one stone! However, it's a bit steeper in price than the other items on this list at $44.
6. Tracie Martyn Resculpting Cream
This moisturizer is super luxurious and will make you feel like you've just purchased your best investment (why not? Your skin is an investment after all). Since it helps firm your skin up, you don't have to worry about those pesky little wrinkles anymore! Although you may have to shell out more for this moisturizer (at $175!), it's still an investment worth having!
7. Aveeno Positively Radiant Daily Moisturizer SPF 30
Aveeno is known to have quality non-hypoallergenic products. As for this nongreasy multitasker, it protects with SPF 30 and has light-reflecting minerals to make your skin evenly toned. You only have to pay $14.99 for this, too!
8. Clinique Acne Solutions Clearing Moisturizer Oil-Free
If you need a moisturizer that's most effective on oily and normal skin which is more prone to acne, pimples, and blackheads, this is the right product for you. Use this regularly to get that clear, supple skin you've always wanted! Plus it only costs around $23!
9. NARS Pure Radiant Tinted Moisturizer SPF 30/PA +++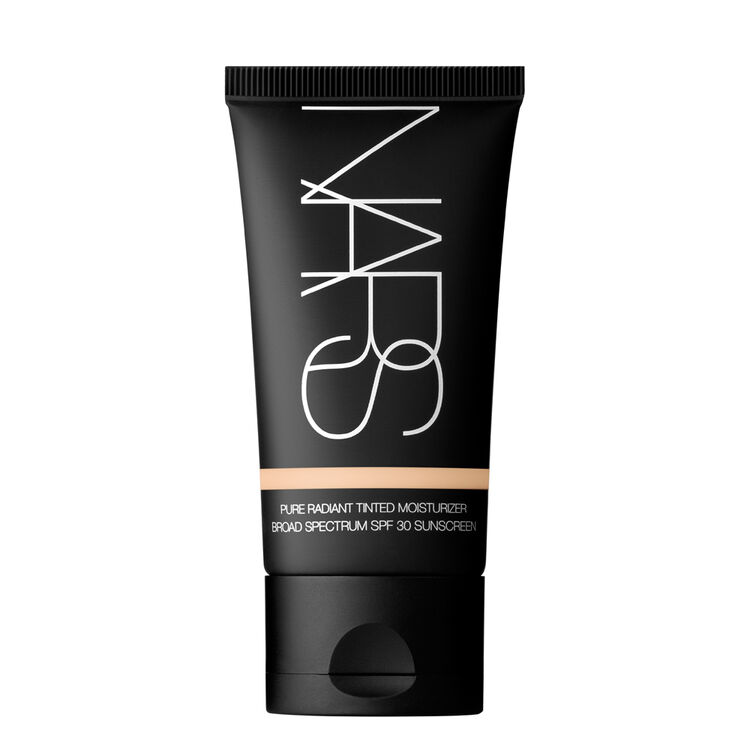 For $44, NARS tinted moisturizer with SPF 30 will make your skin look glowy and alive. In fact, this is perfect for those who find putting on foundation a hassle since it's already tinted. It's great for low-key activities such as going to the grocery!
10. E.L.F. Daily Hydration Moisturizer
This product is a very affordable cream with anti-aging properties. ELF Daily Hydration Moisturizer is a lotion that contains intense hydrating ingredients that don't feel greasy. And guess what? It's only $8 (at Target)!
11. Naturabisse C+C Vitamin Cream
This may be another investment for your skin at $118 a bottle but it's sure to give your skin nourishment and vitamins. It also has the best consistency for all skin type. Plus, it smells really nice!
12. Cetaphil DermaControl Moisturizer SPF 30
Another moisturizer under $20 that you could try is Cetaphil's Dermacontrol Moisturizer. This moisturizer gives you a matte finish, even along the shiny T-zone. It doesn't clog pores or exacerbate breakouts, so it's perfect for acne-prone skin!
13. Kiehl's Ultra Facial Oil-Free Gel Cream
This is an awesome alternative to traditional lotion moisturizer. For just $60, this is perfect for individuals with a serious problem with acne, breakouts, or oily skin.
Can't decide which type of moisturizer you should use? Then you should check out this video from Gothamista for more information.
You don't have to spend a fortune to look gorgeous. You can look for an effective and affordable one that would best address your skin's concerns. Which product among the list works best for you?
What other facial moisturizers are not on this list? Share it in the comments section below! I might have missed some great products that you've tried and sworn by! You can also drop by Facebook and Instagram.
Now that you know more about moisturizers, learn how to make your skin look more youthful here!
Found this post about facial moisturizers informative? Learn more about skin care and makeup with these articles:
How To Remove Mascara and Makeup Quick and Easy
Lipstick Shades | A Beginner's Guide For Every Skintone
11 Skincare Tips For Sensitive Skin