Remember Julia Stiles? Who could forget about the 10 Things I Hate About You star? She was one of the most promising actresses during her rise, but she also had another gift… the ability to pull off just about any hairstyle she tried out!
17 Times Julia Stiles Was Our Hairspiration
Julia Stiles' hairstyles (notice my intentional rhyme) always sparked my interest, even when I was younger. Aside from her great acting and numerous awards, I always adored the way she styled her hair fearlessly.
Today, like me, a lot of girls are afraid of cutting their hair too short or dying it a color that doesn't look right. However, it's clear Ms. Stiles never felt that way. She tried out so many different hairstyles during her years in the spotlight and always pulled them off with confidence. From pixie cut to mermaid-long hair, she's rocked some serious hairstyles, and proved to us that we can do the same. Take a look!
1. Short and Sweet
She donned this hairstyle during her Born film where she played Jason Born's forgotten girlfriend. Later, she changed the blonde color to a dark brown, and believe me, she still looked just as gorgeous.
via imdb
2. Short Waves
This now famous hairstyle was one of Julia's best shorter looks. Notice how her bold smokey eye makeup perfectly contrasted the bright hair!
via listal
3. The Wavy Bob
This picture is a bit older but still showcases how she rocked a wavy bob, and no one can deny that this hairstyle is making a modern-day comeback!
5. Short and Straight
Don't fear cutting your hair short – try a straighter style at first before working up to the curls. Look how well Julia Stiles pulled off the straight, short bob.
6. Vintage Hairstyle
She had this hairstyle while filming Mona Lisa Smile. Notice how the ends of her hair are curled to represent a vintage look. Julia makes it her own with a dirty blonde color rather than the predictable brown-black or platinum blonde (Marilyn Monroe).
via vavoomvintage
7. Medium Length
This is a bit longer look than the above styles, but again Ms. Stiles proved that she can pull off any regardless of face shape. This medium length haircut looks stunning! It's simplicity makes it an easy, hassle-free cut that every gal can wear.
via listal
8. Messy Fly-Aways
Think beachy waves. Messy hair has an effortlessly sexy, cool appeal to it, and it's certainly nothing Julia didn't shy away from!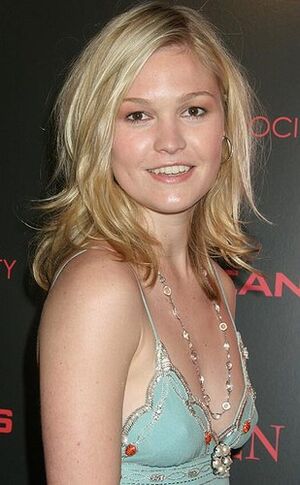 via dexter.wikia
9. Bohemian Waves
This long, light brown look is gorgeous and has an ethereal goddess feel to it. It perfectly complimented her fair skin giving her that effortless glow.
via thebohogarden
10. Auburn Hair
Ready to rock a new hair color? That's not a problem either! Stiles totally nailed this auburn hair color, confidently flaunting it at various award shows.
11. Fiery Blonde
Julia proves that we can throw a bit of copper brown into blonde locks and style the ends with big curls. Stunning!
via zimbio
12. Long Layers
She certainly knows how to spice up a long layered hairstyle! The soft layers add style and volume to her long straight hair.
via listal
13. Big Curly Hair
Wow, I hardly recognized her in this picture! Stiles looked smoking hot with her big waves and dark lowlights! (Check out that bracelet!)
14. Simple Curls
More proof that beautiful, simple curls accentuate your highlights effortlessly. Does she ever run out of hairstyles?
15. Smooth & Tucked Back
The wispy, face-framing pieces throughout her long layers complimented her face shape perfectly. But again, she was fearless in trying out any hairstyle she wanted!
16. Long Mermaid Hair
One of our favorite Julias, as Kat Stratford in 10 Things I Hate About You. This simple 90's hairstyle looks annoyingly GREAT on her.
via womenreading
17. Simple Updo
A simple, side updo and a few bangs looked classically beautiful as well.
BONUS:
Hands down to long straight hair! You go girl!
Throwback to The Prince and Me!
Julia has absolutely rocked every hairstyle we can think of, and these are just few of the many others out there. We admire how brave she was throughout the years, changing her hairstyle and being ultra-confident about it.
We don't know when we will see Julia on the screen again, but one thing is for sure. I can't wait to see which hairstyle she'll flaunt. She has in fact proved to us that we can change our hairstyles and hair colors as well and confidently rock it regardless of face shape!
What do you think? Which of Julia Stiles' hairstyles is your favorite?
---
Can't get enough? Check these out…
Make sure to check out all of our fabulous makeup tutorials, makeup tips & tricks, and beauty insider reports right here at makeuptutorials.com! Here at Makeup Tutorials, we pride ourselves on bringing you the most outstanding makeup content on the web – right from the some of the best makeup professionals! We'll share all the most innovative makeup tutorialsWe want you to be inspired to create awesome and simple day to day looks without thinking about it. Our experts have taken the time to deliver you the best quality content on the web, so make sure to sign up to our newsletter!
♥ TWITTER: OfficialMakeupT
♥ FACEBOOK: https://www.facebook.com/makeuptutorialsofficial
♥ INSTAGRAM: @makeuptutorialsofficial