Sheet mask mania!

As we all know, the winter is harsh on our skin. It dries it out, increases the appearance of fine lines and wrinkles, and oftentimes leave our skin looking dull and dead. That's why skincare is even more important to your daily beauty routine. While we're all about switching to cream cleansers to improve moisture, doubling up on our eye creams and indulging in serums, one of the best ways to hydrate our skin has been and will always be sheet masks!
Sheet masks have been at the top of beauty editor's skincare products lists for ages now and if you haven't used one yet, you're in for a real treat.
13 Moisturizing Sheet Masks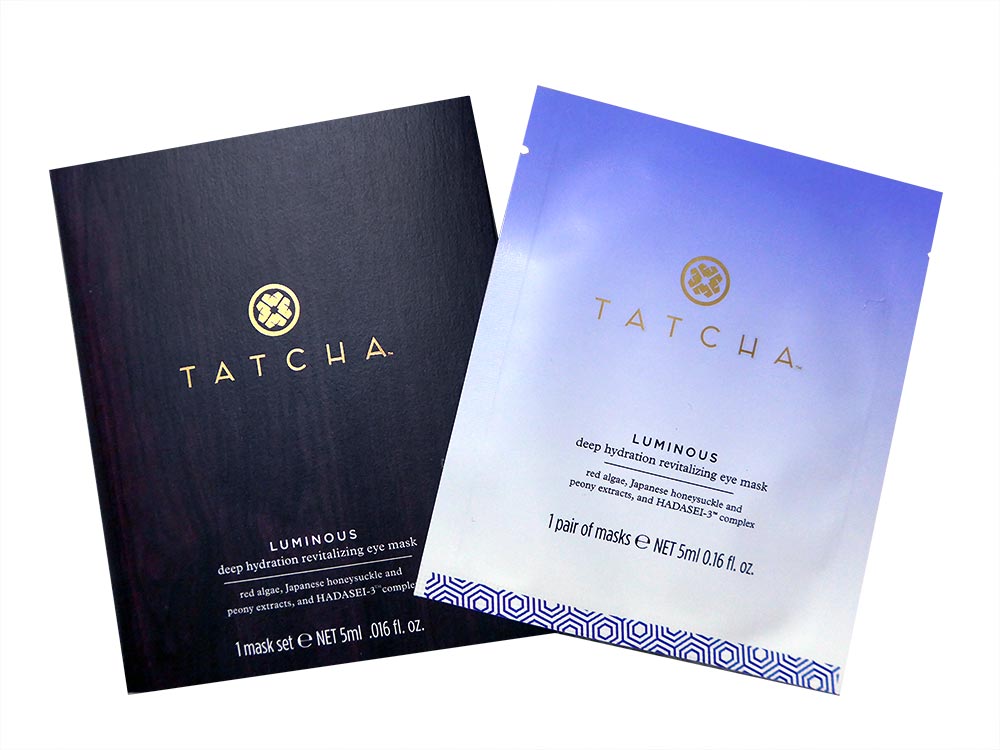 The TATCHA eye masks are enriched with Okinawa red algae and peony extract to provide intense hydration and nourishment to tired, puffy eyes. The coconut-derived mask was originally used to speed third-degree burns and helps the essence penetrate the skin's many layers. This is the perfect mask for dry, aging eyes.
This mask is continuously voted at the top of beauty editor's skincare list. It's Hydrogel material locks in moisture while its Trans-Dermal technology allows the ingredients to penetrate further into the skin. This mask restores hydration, improves elasticity and gives the skin some bounce. It basically restores your skin to its pre-Winter condition.
This 10:00 PM sheet mask is perfect for restoring tired, dull skin. The sheet mask itself is made from coconut juice and is infused with a light serum containing hyaluronic acid, ginseng extracts, watermelon extract, and collagen. This mask is recommended if you live in a cold, dry area, or are exposed to pollutants and harsh environmental stressors.
Yup, you read that right — this mask is made with snail mucin which is known for its intense hydrating and repairing benefits. The mucin, in combination with the glycolic acid and elastin, strengthen, heal and nourish the skin.
The MASQUE BAR Brightening mask is super cheap (beauty lovers on a budget can find this mask at Target) and is targeted for those looking to reduce the appearance of dark spots or hyperpigmentation. The winter is your skin's worst nightmare and in cold weather, can leave your skin looking extremely dull and dead. This mask is perfect for revitalizing your complexcion.
This sheet mask bundle is for those looking for anti-aging masks that will plump, moisturize and reduce the signs of aging. The company comes with an anti-wrinkle, lifting and firming, collagen, ginseng, and fruit cocktail mask.
Insolution Mediu is one of the top sheet mask companies in Korea and if anyone knows sheet masks, it's obviously going to be the people who invented them! This mask is made with 17 amino acids that will strengthen your skin's moisture barrier as well as reduce wrinkles and remove dead skin, dryness and dullness. This mask will leave your skin drenched in moisture. It's perfect for the winter!
Made with real aloe, this mask will leave your skin calm, smooth and soft in 20 minutes.
Mizon is another renowned skincare company in Korea and creates high-end sheet masks revered by celebrities and commoners alike. This mask is made with all natural ingredients like starfish extract, egg white and snail mucin that work together to increase the skin's elasticity and collagen production. The result? Smooth, supple skin and reduced fine lines and wrinkles.
This mask from Mizon's newest skincare line is made with avocado extract, allantoin, trehalose, hyaluronic acid, and Sc-glucan to rejuvenate, moisturizing, smooth, and revitalize the skin. This mask is guaranteed to leave your dry winter skin glowing.
This sheet mask is one of my favorites since it's made with all natural, biodegradable materials that will leave your dry, tight skin moisturized and healthy. The cucumber extract in this mask is a great source of Vitamin C; echinacea supports the skin's natural collagen production; coconut gel provides intense hydration and nourishment; and cichoric acid promotes an even-toned complexion.
These sheet masks are super cool as they're left floating in rice essence, which helps to even and brighten the skin's tone and texture. These masks are sure to leave your skin glowing and hydrated.
The dry winter air can leave your skin chapped and red. In times like this, this calming sheet mask from Mizon will soothe any irritation and reform the skin's overall appearance. This mask is made with propolis which is known to decrease inflammation and irritation, making it a great choice for troubled skin or rosacea.
Your skin needs some more TLC during the cold winter months, so don't be afraid to splurge on your skincare to ensure your skin stays hydrated, smooth and refreshed.
Which sheet mask is your favorite? Let us know in the comments below! 
---