Girls, I know it seems impossible to sport cute and creative hairstyles during school days. This is because you have loads of homework, projects and studying to do the night before and you might wake up late for school. That's why I'm here to help you out with 10 easy before school hairstyles you can do.
I guess one of the problems most students face today is going to school looking stylish despite their busy schedules. Doing cute hairstyles might take a while and most ladies skip this in order to attend to their classes on time. Well, there are quite a number of hairstyles I can recommend that won't take much of your time and at the same time, make you look stunning in school.
10 Easy Before School Hairstyles For Chic Students
School girls all suffer from the same predicament, lack of time to prepare in the morning. When I was a student myself, I crammed whenever I wake up in the morning and sometimes, neglecting to come to school with my makeup on, with fashionable clothes and yes, cute hairstyles.
Well, I am here to help you out. I've listed 10 easy before school hairstyles you can do and the good thing is, it won't take much of your time.
1. Braided Ponytail
[instagram url=https://www.instagram.com/p/1B0mYuBq9q/ hidecaption=true width=625]
You can do this easy hairstyle in just a couple of minutes. All you need to have is simple braiding skills!
2. The Speed Bump
This hair bun is absolutely cute! You can do this before going out of your house or even in the car. Nevertheless, you will definitely rock this look.
3. Super High Ponytail
Make your hair look long with his ponytail tutorial. With this effortless and chic hairstyle, you can go to school looking beautiful even on hectic weekdays. Check out the full tutorial full tutorial here.
4. Modern Messy Bun
This is one of my favorite hairstyles, the messy bun. It's very easy to do and will make you look effortlessly elegant.
5. Easy Chignon
Equipped with enough bobby pins, this hairstyle is perfect for late risers who do not have time to do their hair, like me! I love this hairstyle because aside from it's elegant-looking and polished, it's so easy to create.
6. Hair Knot Hairstyle
Who needs clips or bobby pins anyway? This hairstyle is cute, easy-to-do and simple. You can come up with this one in just seconds and say goodbye to tardiness in school.
7. Braided Side Ponytail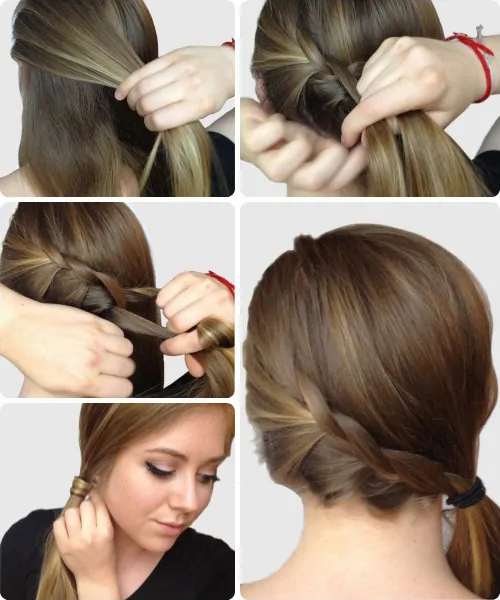 This is a bit tricky at first but with loads of practice you nail this cute hairstyle anytime, especially during school days.
8. Elegant Ponytail
Well, one of the most classic and easy before school hairstyles, this never goes out of style. I love this one especially when my hair does not cooperate with me when I was still studying, it's a lifesaver!
9. The Pouf
This classic retro-style hairstyle never goes out of fashion. It's very easy to do and all you need is a clip to keep the hair in place.
10. Braided Bun
This is elegant-looking yet when you look at how it's done, you won't believe it's that easy! Well, it's a classic favorite of mine.
For more easy before school hairstyles, here's a video by Princess Hairstyles:
Do you want to try these easy before school hairstyles? I'd love to hear your thoughts, share them in the comments section below. Get more hairstyle inspiration inspiration here. 
Share your easy before school hairstyles on Facebook, Instagram, andTwitter.