Every girl knows that having an Instagram-worthy homecoming dance hairstyle is as important as picking the perfect homecoming dress. Flaunt your personal style and awesome hairdo with these inspirations.
Homecoming Dance Hairstyles To Make You Queen!
The homecoming dance may be less formal than prom, but it doesn't mean you won't need to play up your homecoming dance hairstyles game for the event. Whether you're a high school student or an alumna, it's  better to come prepared so I prepared this list of cute and Instagram-worthy homecoming dance hairstyles for you to draw inspiration from in the hopes that you become a queen even just for a night!
1. French Braid Bun
The homecoming queen reflects simplicity and class. Usually, homecoming queens are those who stand out from everyone in the homecoming dance. This french braid bun hairstyle is perfect for queens because it's simple, easy-to-do and will accentuate your curly locks. This messy and imperfect bun makes the whole look, gorgeous.
2. Half-Up Braided Hairstyle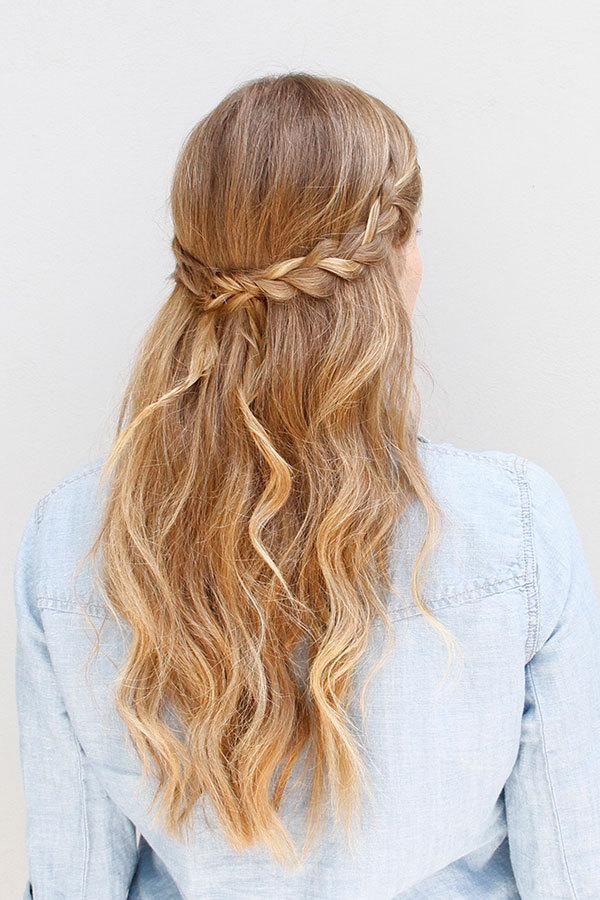 For you ladies with naturally curly locks, this half-up braided hairstyle will make you look stunning on the big night. You can use a curling iron to further curl your hair. It's simple yet will flaunt your wonderful curls.
3. Headbands
You will never go wrong with headbands. They're stylish and easy to use. However, remember to never over accessorize.
4. Loose Curls For Long Hair
Ladies with long hair will always look good with loose curls. You can leave them as is or you can accessorize with studded clips.
5. Straight
[instagram url=https://www.instagram.com/p/BP5IkZ8FH11/ hidecaption=true width=625]
For ladies who feel like they can't fix their hair for the big night, try a straight hairdo by using a flat iron. You'll look classy and stunning without much effort.
6. Ballerina Bun
Having a ballerina hairdo is always a good idea when attending parties, both formal and casual. You can experiment with your ballerina bun high on your head or on the side.
7. Twisted Ponytail
This criss-cross style hairstyle gives a twist to the typical ponytail. It's elegant and at the same time, effortless. You'll have enough time to match it with a natural and stylish makeup.
8. Side Bun With Flowers
Accentuating with flowers is always a good idea, especially for formal events. Fresh flowers are always fabulous. You can opt to use artificial ones, though, this accessory will make you look stunning and elegant for the big night.
9. Loose Side Braids
Loose side braids will look good in you especially when you have long hair. It's simple and easy to do.
10. Waterfall Braids
The waterfall braids is one of the newest trends in hairstyles today. Though it has been present for decades, this hairstyle is perfect for ladies with long tresses. You can either straighten or curl your hair, whatever you think best suits you. This is one of the most popular homecoming dance hairstyles for ladies.
11. Fishtail Braids
This timeless hairstyle will perfectly match any makeup or cocktail dress. It's classy and would bring out your hair color. You can add a twist to the usual fishtail braid by doing this messy fishtail braid tutorial.
12. Classic Ponytail
Of all the homecoming dance hairstyles, this is by far the easiest to do. It's my ultimate favorite too. It will make you look elegant, classy, and confident as you enter the halls of the party.
13. Formal Updo
If you want to flaunt a formal updo, you can try this hairstyle. You can accessorize with a pair of elegant earrings to match your hair and makeup.
14. The Hair Clip
You will never go wrong with a hair clip. This handy accessory will definitely create a very easy yet stylish homecoming dance hairstyle.
15. Classic Updo
This classic updo will match any dress or look. It's elegant and you'll look confident as you stride on the dance floor, meet with friends or mingle with acquaintances.
16. Backswept Waves For Short Hair
[instagram url=https://www.instagram.com/p/BHXafnthx78/ hidecaption=true width=625]
If you have short hair, don't worry, there are still homecoming dance hairstyles that will look good on you. Try this backswept waves for short hair, it's easy and elegant-looking. You can accessorize with cute headbands or clips too.
17. The Vintage Hairstyle
For either formal events or casual gatherings, sporting a vintage hairstyle will bring out the elegance in you. It's easy-to-do and will perfectly match your fierce makeup.
18. Side Swept Curls
This is also one of the easiest homecoming dance hairstyles. Put your hair on one side and create loose curls to create this fabulous hairstyle. It matches any makeup look.
19. Short And Colorful Hairstyle
[instagram url=https://www.instagram.com/p/BOu7lcogLg6/ hidecaption=true width=625]
Whether it's a formal event or a casual one, sporting colored hair will always make you stand out.
On the event itself, there are many things to prepare for such as your dress and makeup. So, here are easy-to-do homecoming dance hairstyles you can make by Katerina Beauty Blog:
Take your pick and practice any one of these homecoming dance hairstyles. I'm sure you'll look stylish and glamorous in the big event.
Which one are you going to try? Let me know below in the comments below!
UP NEXT: Homecoming Makeup Tutorial For Brown Eyes Using Kyshadow Palette
Follow us on Facebook, Twitter, Instagram, and Pinterest for the latest makeup, hair and nail trends!
*Editor's Note – This post was originally published in August 2016 and has been updated for quality and relevancy.