Need a dose of brow inspiration for the holidays? Check out 18 best celebrity eyebrows for the year!

This year has been incredible in terms of fashion and beauty. That's why I'm going to miss 2016 a lot! But before we say goodbye to the past amazing 12 months, let's have a throwback and check out one of the hottest trends this year: on-fleek brows. And we don't have to look too far as we can already take a hint from none other than Hollywood A-listers. If you want to know who has the best celebrity eyebrows for this year, just go through my list!
Best Celebrity Eyebrows Of 2016 | They're On Fleek!
We draw inspiration from celebrities for a variety of things, from hair colors to fashion to nail art, so it's only natural we'd look to celebs for some brow inspo! Their brow looks also prove how the shape can make or break your career. PS: Cara Delevingne isn't on this list, but she's already been enshrined in the Eyebrow Hall Of Fame. It's time to welcome the next generation of brows, don't you agree?
1. Olivia Munn at the Office Christmas Party Screening
[instagram url=https://www.instagram.com/p/BNrSMWlDQxH/?taken-by=oliviamunn hidecaption=true width=625]
Those Japanese yams are doing more than giving her flawless skin. They're giving her flawless brows too. Tamed yet with a slight touch of undoe-ness, these brows make her appear playful, refreshing, and youthful.
2. Bella Hadid at Fendi Fashion Show
[instagram url=https://www.instagram.com/p/BKwJOpaAfBv/?taken-by=bellahadid&hl=en hidecaption=true width=625]
Bella Hadid is stepping out from the shadows of her equally famous sister, Gigi, beginning by upping her eyebrow game. While Gigi's are really arched, Bella's tend to be more rounded and slightly arched, which soften her facial features, especially her jawline. By keeping the eyebrow's tip in line with the jawbone, her face looks more symmetrical.
3. Rooney Mara at SAG Awards
Hello, Audrey Hepburn! Is it just me or does anyone else feel like Rooney Mara is our generation's Hepburn? She's captivating on screen and talented beyond belief. But she usually gives this mysterious vibe. Thankfully, her bushy brushed-up eyebrows somehow show her fun side.
4. Lily Collins at GoCampaign Gala
[instagram url=https://www.instagram.com/p/BMehR6CgL-s/?taken-by=lilyjcollins&hl=en hidecaption=true width=625]
Here's a perfect example bushy, brushed-up eyebrows that work for any age. They also create a perfect frame for Lily's big beautiful eyes.
5. Emilia Clarke at Emmy's Awards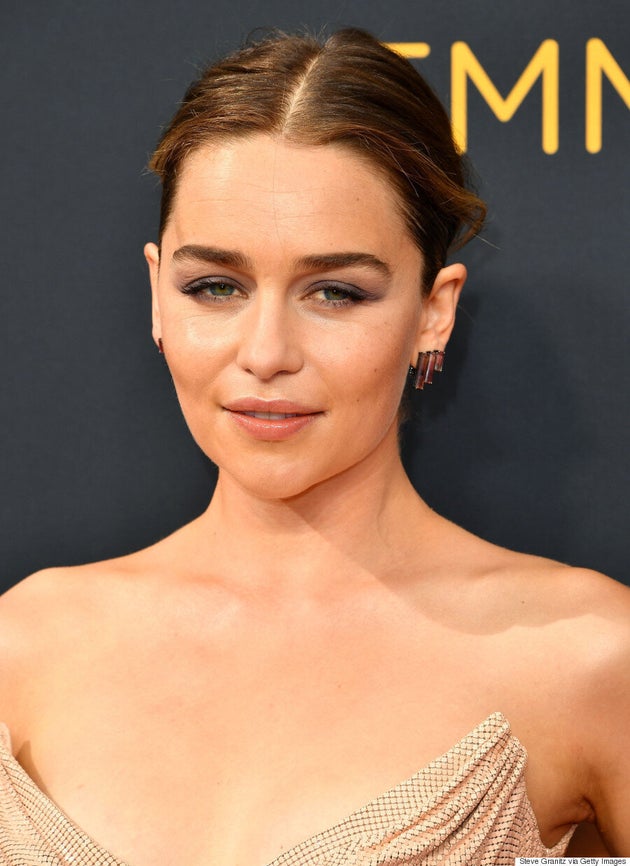 Whether it's her eye makeup or the lights, I am not a huge fan of her look here. The only saving grace is her pair of eyebrows that are sleek and nicely groomed. They somehow help draw the attention away from her tired-looking eyes.
6. Kim Kardashian at MTV Awards
Don't you miss Kim K? The selfie goddess is going through some tough times lately, but if it's any consolation, her long thick eyebrows are on point and it perfectly balances her oval-shaped face.
7. Margot Robbie at Suicide Squad Promo
One of the biggest stars of Suicide Squad who inspired a lot of Halloween looks this year, Margot Robbie has a pair of messy eyebrows, which reflect her fun, youthful character. By limiting the arch, they soften her strong facial features.
8. Brie Larson at SAG Awards
Brie Larson opted for a more minimal makeup at this year's SAG Awards, which works just as well since she already has great-looking skin. The eyebrows, on the other hand, work similarly as Margot Robbie's, which is perfect for her dainty feminine look.
9. Priyanka Chopra at Women's Health Mag
[instagram url=https://www.instagram.com/p/BLwIWG0Dlb1/?taken-by=womenshealthmag hidecaption=true width=625]
Priyanka Chopra has a gorgeous pair of eyes, emphasized further by her thick, full, and bold eyebrows. This is easy to copy too! Using a good eyebrow brush, comb the hair upward, draw a thin line at the base, then comb again to blend.
10. Emma Roberts At Vanity Fair Oscar's Afterparty
These brows . . . they're gorgeous, they're luscious, and they're perfectly shaped. The straight shape gives a nice contrast to her otherwise delicate feminine features.
11. Kerry Washington at Instyle
Kerry Washington's eyebrows have never looked this good! The round arch starts full and then tapers off at the end. It creates balance to her heart-shaped face.
12. Lady Gaga at the Golden Globes
While her weird fashion choices give her personality, I'm sure glad the meat-dress phase is finally over. Instead, we're looking at a more sophisticated, elegant, and classy Lady Gaga! Just be amazed at her looks in the year's Golden Globes, which is an homage to old Hollywood glamor. The slightly curved eyebrows have the right angles to denote power while retaining her feminine look.
13. Sarah Paulson at the Emmy Awards
One of the best celebrity eyebrows for this year goes to Sarah Paulson. Her brushed eyebrows make her look put together for the big event, but the slight arch near the end is the better part since it "pulls up" her long face.
14. Jessica Alba at New York Fashion Week
[instagram url=https://www.instagram.com/p/BKYe1e6hjhH/?taken-by=jessicaalba hidecaption=true width=625]
There are a lot of things beautiful in Jessica Alba's face: although she has a defined jaw, the rest of her features are soft. She has a really nice skin tone and an equally smooth face. Her eyes are large and her groomed classic eyebrows provide a nice accent. Look at how the end doesn't go beyond the jawline. Symmetry, ladies.
15. Rosie Huntington-Whiteley at Elle Brasil
[instagram url=https://www.instagram.com/p/BJ0TJkLj0PN/?taken-by=rosiehw hidecaption=true width=625]
I may not adore her in Transformers, but I love her face. It's a great mixture of strength and vulnerability. And her thick, filled-in, bold brows draw your attention to her haunting blue eyes!
16. Kristen Stewart at Cannes Film Festival
Say what you will about her, but the girl's brow game is strong. Her thin eyebrows are well groomed and brushed, which only emphasize her favorite makeup style: smoky eyes.
17. Jennifer Lawrence at Vanity Fair
It isn't only Jennifer Lawrence who's making waves this year – her eyebrows too! A flattering arch is a complement to her soft angular face, but keeping the arch subtle allows her feminine features to shine through.
18. Viola Davis
I've seen Viola Davis's eyebrows through the years, and I must say this is one her gorgeous ones, definitely deserving to be part of my best celebrity eyebrows for 2016. Bold, dark, and natural-looking, they help make Davis's face work like a chameleon. When she smiles, her eyes appear all lit up!
Okay, I give in. What's a best celebrity eyebrows list without those of Cara Delevigne? Copy the look by watching this demo by none other than Charlotte Tilbury:

What do you think of my best celebrity eyebrows list for the year? Oh, I hope you have a lot of fun and learn a thing or two about the right brows for your face. Hopefully, yours will also be on fleek during holiday parties. Enjoy!
Look classy, trendy, and fun from head to toe this holiday season! Pair your gorgeous outfit with this stylish pair of shoes from Mason and Ivy:
Do you know of other Hollywood A-listers that deserve to be part of the best celebrity eyebrows list? Let me know! Share your comments below. Wear the best eyebrows minus a salon appointment by reading these tips. 
Follow our Facebook, Twitter, Instagram, and Pinterest accounts to get the latest makeup, hair and nail trends!