Love MAC lipstick? I guarantee you'll love these MAC lipstick dupes even more.
RELATED: Splurge Or Save: The Best Mac Drugstore Makeup Dupes
Top MAC Lipstick Dupes for Less Than Half the Price
MAC Lipstick Dupes List
There's no denying that MAC lipstick's shades are delightful, but there's also no denying how much you'll have to spend to build your MAC lipstick collection. If you're a fan of cheap thrills and bargain buys, then you should get your hands on these MAC lipstick dupes.
1. MAC Ruby Woo and Colourpop Weekender
If you're an avid fan of MAC's Ruby Woo lipstick, then you'll be happy to know that you can buy the same shade for a fraction of the price. Get Colourpop Lippie Stix in Weekender instead.
The price difference? $19.00 for MAC and $5 for Colourpop — that gives me such a big laugh.
Alternative Dupe: You can also try Wet n' Wild's Megalast Lipstick in Spotlight Red. It's only $2.99!
2. MAC Please Me and Revlon Matte Balm Elusive
MAC Please Me is a shade found in many personal and professional makeup kits, but the Revlon Matte Balm in the shade Elusive is giving this baby a run for its money at $8.99. This really close MAC lipstick dupe might be the next best thing after MAC's $19.00 shade.
Alternative Dupe: Covergirl's Exhibitionist Lipstick Cream in Darling Kiss is deceptively similar to Please Me. Depending on where you buy it, you can cop this dupe anywhere between $5.49-8.99.
3. MAC Shy Girl and NYX Pumpkin Pie
MAC Shy Girl is a gorgeous satiny orange shade that is not so easy to copy, but NYX's round lipstick is coming in close with the shade Pumpkin Pie ($4). It's a matter of difference in the finish as this one is more of a creamy matte finish, compared to Shy Girl's sheer satin wash ($16).
4. MAC Candy Yum Yum and OCC Nylon Lip Tar
This cool-toned pink is a beautiful color that deserves its cult following. But OCC's Nylon Lip Tar is a ridiculous color match!
The swatch above may have been taken under different lights, so there's a slight difference in tone register. But they are basically almost the same color, except that OCC's is a matte finish and MAC's is a creamy matte color.
Alternative Dupe: Maybelline's Color Sensational Vivids Lipstick in Fuchsia Flash nailed Candy Yum Yum. It's yours for only $7.49!
5. MAC Angel and Maybelline Born With It
Another cult favorite is MAC's Angel shade ($19.00). With celebrities fond of using this color, it's understandable why this beautiful shade runs out of stock easily. But wait until you see Maybelline's Born With It shade!
For only $7.49, you might just pick the less burdensome option for your pocket. Anyway, they look very similar—from the pigment to the finish.
Alternative Dupe: NYX's Professional Makeup Matte Lipstick in Pale Pink can give Angel a run for its money — and at $6.00 to boot!
6. MAC Kinda Sexy and Wet n' Wild Bare It All
Nudes are the new pinks and this beautiful nude shade is right up there. Luckily there is an exact dupe that costs only $2.99, the Wet n' Wild lipstick in shade Bare It All.
It almost sounds like a hoax every time I go on their website because their prices are just ridiculous, especially compared to MAC's Kinda Sexy at $19.00. It's almost a no brainer!
Alternative Dupe: Colourpop's Lippie Stix in Parker is a great alternative dupe if you prefer using long and thin lippies. Parker can be yours for $4.90.
7. MAC Twig and NYX B52
If you love mauve colors, then you may be obsessed with MAC Twig ($19.00). But did you know that NYX shade B52 ($4.00) is almost an exact dupe?
If only it were a bit less glossy it would've been the perfect entry in this list of MAC lipstick dupes. If the satin finish of Twig is non-negotiable, MAC cosmetics now offers it in travel size!
You can get about half the amount of product for $12.00. How great is that?
Alternative Dupe: Maybelline's Color Sensational Creamy Matte Lipstick in Touch of Spice also makes a convincing Twig. It's a little pricier than NYX's B52, but at $5.64, it's still worth swatching to see.
8. MAC Russian Red and Maybelline 970 Daring Ruby
One of the best red shades in my personal opinion is MAC's Russian Red. So when I learned that Maybelline Color Sensational Creamy Matte Lipstick in Daring Ruby (970) was a close dupe to this beauty, I was ecstatic!
Alternative Dupe: Another amazing Russian Ruby dupe is NYX Professional Makeup matte Lipstick in Eden. You can get this dupe for as low as $6.00 online.
9. MAC Viva Glam I and NYX Alabama
Viva Glam I is another beautiful red from MAC. Could you blame my heart if it skips a beat to NYX's shade in Alabama ($6.00) especially if it looks like a perfect dupe to Viva Glam ($19.00)?
Alternative Dupe: You can also switch out your Viva Glam lipstick for Maybelline's Color Sensational Matte Lipstick in Divine Wine. It also offers a similar sophisticated red shade and it's yours for only $5.62.
RELATED: How To Apply Red Lipstick Perfectly | Makeup Tutorial
10. MAC Rebel and Wet n Wild Sugar Plum Fairy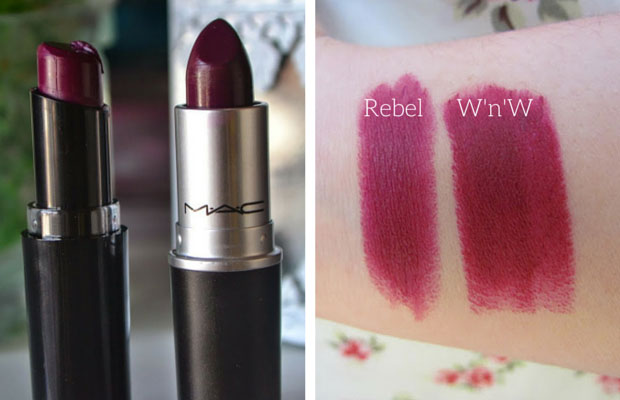 MAC's Rebel is one of the most popular deep purple lipstick shades in the market today. But if you don't want to spend $19.00 for it, you can just spend $7.50 for Wet n Wild's Sugar Plum Fairy — practically an exact dupe.
Alternative Dupe: You can also try Maybelline's Color Sensational Loaded Bold Lipstick in Berry Bossy. For under $6.00, it's definitely a worthy contender against Rebel.
11. MAC Diva and Revlon Raisin Rage
MAC Diva ($19.00) is a red for every woman. You'd think that a shade this versatile would be hard to dupe, but Revlon's Super Lustrous in Raisin Rage ($8.49) has seemingly done the impossible.
Just two swipes of this drugstore beauty and you may have copped MAC's beautiful intense Diva red.
Alternative Dupe: If you're looking for more MAC Diva lipstick dupes, try NYX's Extra Creamy Round Lipstick in Snow White. It's hard to resist this dupe at $4.00.
12. MAC Impassioned and Maybelline 870 Shocking Coral
This is another excellent MAC lipstick shade to use this summer. MAC's Impassioned ($28.56) is a neon-pink red shade with coral undertones.
But if spending on a MAC lippie is more than something your budget can handle at this time, just get Maybelline's Shocking Coral ($12.00).
Alternative Dupe: If you're looking for an even more affordable dupe, NYX's Extra Creamy Round Lipstick in Spell Bound may do the trick for you. And at $2.40, you're definitely getting a bargain!
13. MAC Pink Nouveau and NYX Summer Breeze
MAC Pink Nouveau ($29.28) just may be the most popular choice of lip color this summer. It's a cotton candy pink shade that women love.
I am more than happy to tell you that you can get the same shade from NYX with the Summer Breeze shade at $6.00.
Alternative Dupe: Revlon's Super Lustrous Lipstick in Stormy Pink is deceptively similar to Pink Nouveau. It's available online for $5.46!
14. MAC Cyber and Wet n Wild Vamp It Up
So, you're someone who really likes to go dark on those purples? Well, don't worry!
If you've been using MAC's Cyber ($16.61) for a while, you can now switch to Wet n Wild's Vamp It Up at $7.85 and get the same look and finish.
Alternative Dupe: If you aren't down with Wet n Wild, Revlon's Super Lustrous Lipstick in Va Va Violet gets real close to Cyber too. And it's only $8.99!
15. MAC Whirl and Rimmel London Lasting Finish by Kate #48
One of my favorite shades is MAC Whirl and to find this exact dupe is so satisfying. Rimmel London's Lasting Finish by Kate #48 offers that same dirty rose shade we all love.
I don't have to think twice about buying it because it's only $4.97. Take my money!
Alternative Dupe: If you're a fan of lipsticks in pencil form, you'll love e.l.f.'s Matte Lip Color in Praline. It looks exactly like Whirl but at a fraction of the price — only $4.00!
16. MAC Sin and Wet n Wild Cherry Bomb
We all know how much MAC lipstick costs; a bullet will range between $16.00 to $20++, so finding a dupe that costs under $3.00 is probably one of the best things that could ever happen in the makeup world! LOL!
Anyway, here, I found a dupe for the ever famous MAC Sin in Wet n Wild's Cherry Bomb! See how similar they look not only in color, but also in finish?
Alternative Dupe: L.A. Girl's Matte Flat Velvet Lipstick in Runway is another steal of a dupe at $5.00!
17. MAC Velvet Teddy and Maybelline Nude Perfection
I'm calling it, Maybelline's Nude Perfection could be a favorite among the MAC lipstick dupes list because it performs so much like MAC's Velvet Teddy. Talk about wise investments — this color is a coveted shade and to get it for less than half the price is ridiculous.
Alternative Dupe: NYX's best-selling Matte Lipstick in Euro Trash is also a great Velvet Teddy dupe.
18. MAC Relentlessly Red and ColourPop Toucan
Our super lovely friends at Dupe-that managed to find a dupe for the elusive MAC Relentlessly Red! I've been trying to find a dupe for this gorgeous pink/red shade but I've been having a really hard time.
Thank goodness Dupe-that is super reliable when it comes to finding spot-on dupes of our favorite MAC products.
Alternative Dupe: If you can't get your hands on ColourPop's Toucan, try Maybelline's Color Sensational Matte Lipstick in Fiery Fuchsia. You can cop it online for under $4.00!
19. MAC Brick-O-La and Sephora Spring Break
This mid-tone berry lippie is perfect for everyday use. And when you use your lippie every day, you'll probably go through it pretty quickly.
So you'll definitely appreciate this more affordable dupe! Sephora's #Lipstories in Spring Break (#36) has a creamy finish, just like Brick-o-la 's, and it's only $9.00!
Alternative Dupe: You can also try ColourPop's lip crayon in A Go Go. It has a more sheer finish, but at $5.60, this slight difference may be forgivable.
Want to see a beautiful vampy lipstick look in action? Check out this video by Johanna Ortega:
You don't have to break the bank to build a decent makeup stash. If you're experimenting with new colors, you don't have to try high-end makeup right away.
These days, you have a variety of affordable brands to choose from. Don't let your budget limit your creativity!
Now that you have a list of different, MAC lipstick dupes, go ahead and splurge on them all. After all, you won't be breaking the bank with each of these MAC lipstick dupes.
What are your favorite MAC lipstick dupes? Let us know in the comments section below, and I hope you find this list helpful because I have another makeup dupe list here that you will surely love. 
UP NEXT:
Follow us on Facebook, Twitter, Instagram, and Pinterest for the latest makeup, hair, and nail trends!
Editor's Note: This post was originally published in October 2016, and has been updated for quality and relevancy.