Need makeup tips for when you wear glasses? Here's 11 tips for applying makeup when you have glasses on.
 11 Makeup Tips For Women Who Wear Glasses
Makeup application is quite a handful for most women. Add a pair of eyeglasses into the equation and applying and maintaining makeup can be quite an impossible feat for many. However, wearing glasses does not mean that you should avoid wearing makeup altogether. What you need to do is to find the makeup tips that will help create the makeup look that's best for you. From contouring tips to lip shades that are perfect for your makeup look. We've got the tips and tricks to make your face shine from behind your frames.
To help you out, here are some makeup tips and tricks that you should definitely know about:
1. Learn how to contour
Since you are wearing glasses, there are times when your glasses cast shadows on your eyes, the best thing that you can do is to lighten up certain parts of your skin. Use lighter foundation in the skin surrounding your nose as well as under the eyes. This simple step can surely work but if you wish to take things into a whole new level, you can try bronzer on your cheekbones, side of the nose and top of the forehead.
2. Do your brows
via frmheadtotoe.com
It is always best that you keep your brows clean. Additionally, you must also make sure that the shape of your brow matches the size and style of your glasses. If you are wearing glasses with bigger and bolder frame, you may want to make your eye brows more thinly and shapely. On the other hand, full and defined eyebrow will best suit glasses with thinner frames.
3. Play with your eyes

via Beauty Editor
Most women wearing glasses think that the best way to do their eye makeup is to keep it simple. For your information, bold and striking eye makeup would work well for you too. Achieve a cat eye using your liner and opt for eye-catching eye shadow color. When choosing an eye shadow shade, it is best that you take into consideration the color of your frame.
4. Downplay your lips
via enzaessentials.wordpress.com
We all know that the general rule is to either highlight your eyes or your lips—never both. If you have glasses with dramatic flare and you want to match it with an equally dramatic eye shadow application, then downplay your lips. Opt for lipstick in neutral shade or just settle with a lip gloss instead.
5. Blush is a must
When you are wearing glasses and you are keeping your lips as natural as possible, the best way to add some color to your face is by putting on some blush. It is best that you opt for a blush powder so that the product will not mess up your glasses. Opt for one in pink shade and apply it along the apples of your cheeks to make your blush look natural.
6. Add some shimmer on your lower lid
If there is one thing good about wearing glasses, it is the fact that it makes your eyes look a lot bigger than it really is. If you wish to make your eyes look more noticeable, the best way to do so is to put some shimmer color on your lower lid. Through this simple step, you can direct people to your lovely eyes. You will surely get compliments once you do this!
7. Achieve the smoky eyes
Most women who wear glasses think that they will never ever be able to pull off the smokey eyes. For your information, achieving smoky eyes is possible. There are just some things that you can do to successfully pull it off. All you have to do is to double the eye liner so that your smoky eyes can b seen through your glasses. You will be amazed at how gorgeous smokey eyes will look with your glasses on.
8. Smudge your liner
Since your glasses have already done the job of making your eyes look bigger, your only responsibility is to draw the people's attention to your eyes. This can be easily done by creating a little smudge along your lower lid or upper lid.
9. Apply eyeliner all around your eyes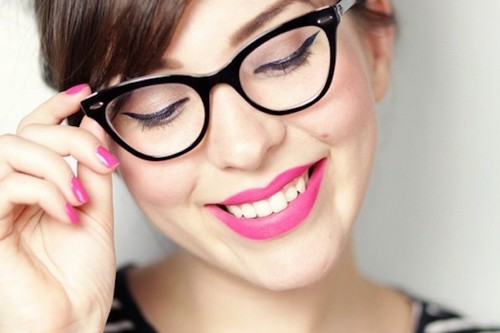 via wonderslist.com
If you think that your glasses have made your eyes look smaller (very rare cases though), you can make your eyes look bigger by applying liner all around your eyes. Black pencil liner will surely do the trick!
10. Highlight your cheekbones
One more thing that you will love about wearing glasses is that it highlights various appealing parts of your face, like the cheekbones. If you wish to make the cheekbones pop out even more, you can just easily apply either light foundation or highlighter. Apply this around the cheekbones and your face will look as thin as ever!
11. Use an eyelash curler
Most ladies wearing glasses are afraid of wearing mascara as they are worried that it might smudge and mess up not only their looks but their glasses as well. Lucky for you, there is one more way that you can "safely" make your lashes look longer and curly. Just use eyelash curler and you will be amazed at how it can open up your eyes and make it look more gorgeous than ever.
Stick to these makeup tips and you will surely look rocking in your glasses.
And if you happen to be in the market for new pair of frames, check out Warby Parker's new 2017 Spring Collection!
Check out our new store Scrumptious for makeup products, clothes, accessories and more!
Follow my Facebook, Twitter, Instagram, and Pinterest accounts to get the latest makeup, hair and nail trends!
Editor's Note – This post was originally published in March 2015 and has been updated for quality and relevancy.