Before getting to some cool DIY Bath Bomb Ideas, let's take a look at some benefits that bath bombs can give us.
1. Skin Benefits
Besides baking soda and citric acid, bath bombs contain some skin nourishing ingredients such as shea butter, coconut oil, milk, and grape seed oil. They are all-natural and chemical-free, and therefore simultaneously eliminate dead skin cells, soften, soothe, and moisturize your skin. Bath bombs slow down the skin's aging process, leaving your skin soft, velvety, supple, and silky.
If you have sensitive skin or are allergic to some substances, consider what you should add to your DIY bath bombs. But in any circumstances, bath bombs are usually always your skin's good friend.
2. Therapeutic Benefits
Bath bombs are considered to be a form of aromatherapy as different scents from essential oils help uplift your mood and relieve your stress. Peppermint essential oil helps alleviate muscle pain and relaxes your mind after a long day. Bath bombs with citrus oil awaken your mind, providing a full-energy feeling to kick start your day. Eucalyptus oil improves the immune system and helps you get over common diseases like colds or flus. To people who often suffer from insomnia, bath bombs with lavender oil can ease your anxiety and aid sleep quality.
3. Freshen Up The Atmosphere
These fizzy balls of joy create amazing experiences for you. Dropping a little bath bomb into your tub releases a lovely and relaxing smell, transforming your bathing area to a luxury spa. Additionally, bathing with this kind of cleansing ball not only replenishes the skin but also helps us get rid of bad smells.
Here are 12 free DIY bath bomb recipes just for you. We've got all you need to know to create your own bath bombs. Make them in a variety of styles, scents, and colors.
DIY Bath Bomb Recipes: Homemade Luxury
— This post is courtesy of diyprojects.com and shared with permission —
I don't know about you, but I absolutely LOVE taking baths. Baths let me completely relax and rejuvenate, and forget about my other troubles.
Between work and the family, I don't always get to sit in the tub for hours than I'd like, but I try to make time for at least one bath a week. I call it "tub therapy". 🙂
This year, I want to share the tub love by gifting all my friends DIY bath bombs (and maybe, saving a few for myself). Check out some of the neat ideas I found while looking for inspiration from around the web.
Here are some of the supplies you'll need for these bath bomb recipes:
1. Fizzy Cupcake Bath Bomb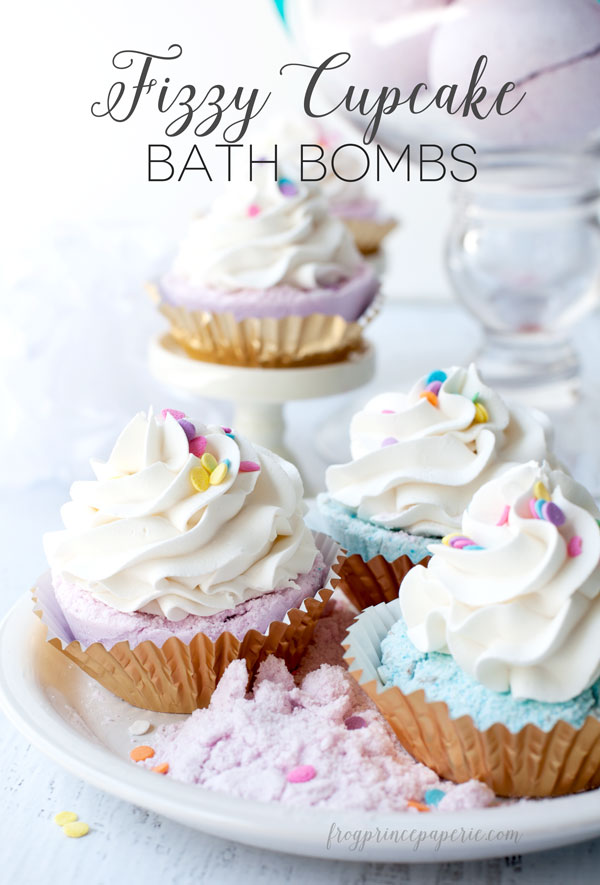 All cupcake lovers will love whipping this DIY bath bomb up. Pick your favorite color, add some sprinkles, and your fizzy cupcake bath bomb is good to go. It's almost too cute to use! Click here to see the step-by-step instructions on how to make your own. Warning: This may cause cupcake cravings in the bath so you may want to make some real cupcakes, too!
This recipe makes 3 large round bombs or 7 cupcake bombs.
Cake ingredients:
8 oz baking soda
4 oz citric acid
4 oz cornstarch
4 oz Epsom Salts
2 ½ tablespoons coconut oil
¾ teaspoon water
2 teaspoons vanilla extract
4 drops food coloring
Frosting ingredients:
3 tablespoons meringue powder
6 tablespoons warm water
1 lb powdered sugar
1 teaspoon vanilla extract
2. Lemon Bath Bomb
Bath bombs come in all different scents. But if you love the smell of citrus and fresh lemon, then these lemon DIY Bath Bombs are perfect for you! It's a simple bath bomb to make. By adding the right amount of lemon essential oil, it'll smell just as lemony as you want. After a trip to the grocery store, you can get started on this recipe!
Supplies:
1 cup baking soda
1/2 cup citric acid
1/2 cornstarch
3 tablespoons Epsom salt
3/4 teaspoon water
2 teaspoons Almond Oil
Yellow food dye (optional)
Wilton Icing Daisy
Plastic ornament mold
Meat Baller (optional)
3. Grapefruit Bath Bomb
Who doesn't want freshly made DIY bath bombs? Here's another simple recipe to follow to create your own. For a fresh and healthy scent, try adding grapefruit extract. A drop of beet juice gives this bath bomb the perfect shade of pink to match the smell of grapefruit. Click here for the complete tutorial.
Supplies:
4. Apple Bath Bombs
These charming little "apples" are a perfect choice for your bathing or even decorating experience. Place a few of these in your bathroom to please your eyes and get a warm feeling when looking at them. You can change the color to red if you think that it will be yummier. Click here for a full tutorial.
Supplies:
8 ounces baking soda
4 ounces citric acid
4 ounces corn starch
4 ounces Epsom salts
2 tablespoons water (no more than that)
2 tablespoons green apple essential oil
2 tablespoons apricot oil
3 drops green dye
5.  Lavender Bath Bombs
Lavender is a well-known essential oil due to its calming effects. So, why wouldn't you want to add it to your DIY bath bombs? There's no better time to calm down and relax than in the bath. A DIY lavender bath bomb definitely enhances relaxation. Follow the step-by-step instructions here. Don't forget to add some dried lavender flowers, too!
Supplies:
6. Ice Cream Scoop Bath Bombs
Have some fun with your bath bombs! Turn them into different flavors of ice cream with an ice cream scooper, food coloring, and fragrance. From essential oils to extract, your DIY bath bombs can smell like vanilla, strawberry, and chocolate. Follow this tutorial here, and in no time you'll have bath bombs making you hungry for some real ice cream scoops!
Supplies:
17 DIY Bath Salts | Bath Salt Recipe https://t.co/TqSZvxBkD4 pic.twitter.com/Xo29LQhNm5

— DIY Projects (@DIY Projects) February 18, 2016
7. Kid-Calming DIY Bath Bomb
Add more fun to bath time with a kid-calming DIY bath bomb. It's a great way to enjoy some time with your kids while also calming them down before bedtime. They'll love watching the bath bomb disappear before their eyes. They can even help make the bath bomb by picking their favorite color and their favorite scent before! Get the DIY tutorial for this kid-calming bath bomb here.
Supplies:
Mixing Bowl
Spray Bottle with Water
Silicone Baking Mold
½ cup Baking Soda
¼ cup Corn Starch
¼ cup Citric Acid
1 tsp. Olive Oil
20 drops of (more or less depending on your preference) Lavender Essential Oil
8. Oatmeal Bath Bomb
Oatmeal is an excellent natural exfoliant. If your skin is irritated or sensitive to other bath bombs, give this one a try. It's fragrance and color-free while still giving you the bath bomb experience. In just a few easy steps, you can DIY these bath bombs. If you want the natural exfoliant and a nice scent, go ahead and add your favorite essential oil fragrance!
Supplies:
¼ cup baking soda
¼ cup oatmeal
2 tbsp citric acid– This can be found in either the baking aisle or where Ball Mason Jars are in stores like Walmart. Available online here as well (I do strongly suggest buying online if you can just to save yourself from running all around to find this stuff. It is used for canning so it might be next to the spices and gelatin in stores or next to mason jars).
2 tbsp cornstarch
2 tbsp carrier oil or any that you have.  I like coconut oil but olive, almond, etc… all work.
1-2 tbsp water
food coloring (optional)
Essential oil for fragrance (optional) – You might want to add rose or lavender oil.
Silicon mold (optional) – These can be found at craft stores, at stores like Ikea and Target, or buy online here.
9. Lavender Coconut Oil Bomb
Aromatherapy and moisturizer all at the same time with these lavender coconut oil bath bombs. You'll enhance your bath time relaxation with this silky, smooth bath bomb. The scent is refreshing and calming, too. Follow the step-by-step tutorial here to start creating your own.
Supplies:
lavender
pipe cleaners
1 1/2 cups organic coconut oil
1 tbsp dried lavender buds
4-6 drops essential oil
crock pot
strainer
melon baller
10. Rose & Milk Bath Bomb
Nourish and moisturize your skin with a DIY bath bomb. This rose and milk bath bomb is a true luxury. Rose oil and dried rose petals make the bath bomb smell good and look pretty while also helping care for your skin. Follow instructions here to create your own rose & milk DIY bath bombs. You can even gift these to your friends and family.
Supplies:
11. Midas Touch Bath Bomb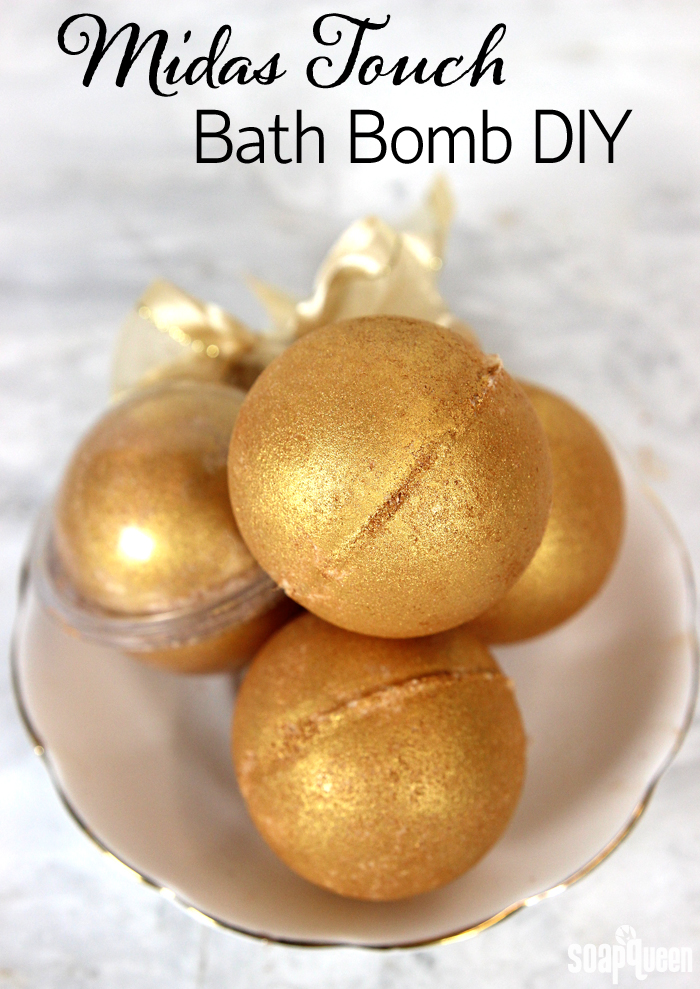 These DIY bath bombs are perfect for an eye-catching gift or for extreme self-pampering. The mix of fragrance oils creates the perfect scent for ultimate relaxation in the bath. The cocoa butter creates a smooth, silky feeling. Try this DIY Midas' touch bath bomb by following these instructions here.
Supplies:
12. Orange Bath Bomb
Looking for a therapeutic DIY bath bomb? Look no further. The orange DIY bath bomb has a fresh, fruity smell that calms and relaxes, too. Use natural food coloring to make sure the bath bomb is a bright orange color. Add body glitter for some sparkles in the tub! See details and tutorials for this DIY bath bomb recipe here.
Supplies:
1 cup baking soda
1/2 cup citric acid
1/2 cup cornstarch
1/4 cup Epsom salt
2 tbs almond oil
1/2 tsp Orange essential oil
1 tbs water
orange food coloring (gel works better, but there are natural food colorings available these days; India Tree & Color Lovers are two brands)
**optional** body glitter or mica for sparkle
13. Donut Bath Bombs
Hey all of you donut addicts out there, this is your moment! Let your "best friends" join your bathing time to always stay happy, but don't let those pesky ants follow you! Follow these instructions to create your own favorite donut tastes.
Supplies:
Donut bath bomb mold
Citric acid
Baking soda
Epsom salt
Cornstarch
Pink cosmetic grade pigment
Coconut oil
Witch hazel
Goat's Milk Soap base
Your favorite essential oil
Sprinkles (Try Sweetapolita and these edible stars)
14. Frozen Bath Bombs
Are you a fan of Frozen – the most famous animation of all time? Enjoy this freezing and refreshing Disney experience right in your own bathtub with this amazing bath bomb tutorial.
Supplies:
1 cup baking soda
1/2 cup citric acid
1/2 cup Epsom salts
3/4 cup corn starch
1 teaspoon water
2 teaspoon peppermint essential oil
3 teaspoon olive oil
3-5 drops blue food coloring
snowflake silicone mold
15. Rose Petal Bath Bombs
These can be a romantic gift for the love of your life on their birthday or Valentine's Day. It's such a fresh and relaxing feeling when you enjoy the rose scent with floating rose petals during bathing time. Find detailed instructions for these sweet bath bombs in this link.
Supplies:
1 cup baking soda
1/2 cup citric acid
1/2 cup Epsom salt
1 teaspoon water
2 teaspoons essential oil (rose, vanilla, or lavender)
3 teaspoons oil (coconut, olive, or almond)
1 cup dried rose petals
bowl
wisk
spray bottle
bath bomb molds or ice cube tray
Watch this video by Recipes by Carina for easy DIY bath bomb recipes! 
It was quite a refreshing lineup, wasn't it? It makes you want to get creative. I know it does 'cause it makes me want to try making them myself!
Up Next: How To Cut Your Own Bangs And Not Regret It
Prefer not to buy all the supplies separately? Check out this great beginners kit!
Want to buy bath bombs instead? Check out these colorful and fragrant bath bombs!
So which of these DIY bath bomb recipes will you try tonight? Let us know below in the comments!
Check out our new store Scrumptious for makeup products, clothes, accessories and more!
Follow my Facebook, Twitter, Instagram, and Pinterest accounts to get the latest makeup, hair and nail trends!
Editor's Note – This post was originally published on March 12, 2017, and has been updated for quality and relevancy.