Winter is coming! Is your hair ready? Be gorgeous this season by wearing any of these beautiful winter colors for your hair.
Hi, ladies! How are you doing with your Christmas plans? In case you want something new and easy to do for the home, check out these last-minute decorations. Meanwhile, if you want to add more to your gifts – because it's the season of giving! – get some fantastic beauty products right here. Fancy dresses? There are options too! And if you want to look extra gorgeous during your parties and family gatherings, you've come to the right blog post. 🙂 I am going to talk about this year's best winter colors for your hair.
8 Hair Winter Colors  For A More Glam Look This Holiday
These hair winter colors are inspired by the recent Pantone hues, and let me tell you, they are beyond words beautiful. 🙂 It's incredible how we can play around with colors. Pair them with the right makeup and you'll have an attention-grabbing, head-turning look! In the meantime, prepare your imagination as you go through this list of colors.
1. Ravishing Red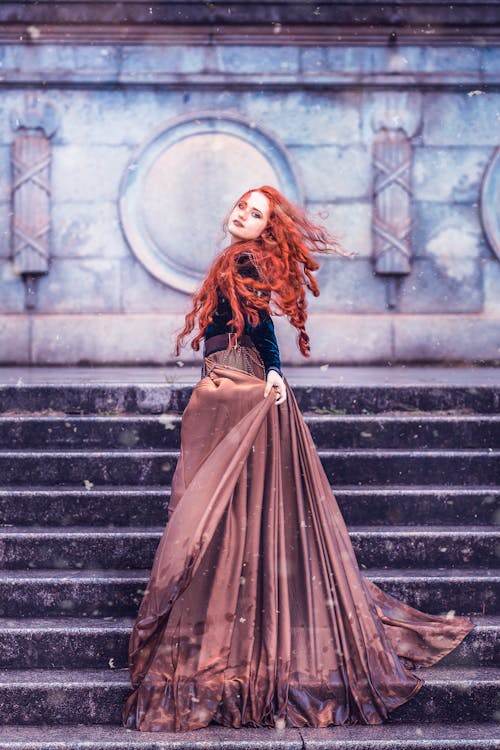 This year's winter colors are all about boldness and full color, and we begin with this ravishing red shade. This one is actually inspired by Aurora red hue, which is kind of deep red yet earthy. If you want a better idea of the shade, look up Disney's Aurora online.
Sale
2. Beautiful Blue
Be like Elsa this season! Never let the winter chill bother you by dying your hair blue. For this season, you have two beautiful blue shades: icy and dark.
The icy blue hair is similar to Pantone's Airy Blue, and as you can see, it's light –  a great color if you love a more laid-back, casual vibe.
Looking for something dark? Try this one, which is similar to Riverside, a sophisticated take on blue.
3. Charming Coral
Coral shades are not just for summer, especially if we're talking about hair winter colors. It also pays homage to Pantone's potter's clay, which has orange undertones. Another equally charming option is tangerine.
4. Gorgeous Green

Every time I think of green, I remember the Little Mermaid. I am not sure why – is it because the ocean waters are blue-green? Anyway, for 2016 winter colors for your hair, I have two gorgeous recommendations for you.
This green hair gives your look an edgy but not grungy update. Keeping it light also stops it from overpowering whatever holiday makeup you want to have.
Here's a different green hair option, which is olive green. It is more subdued and a great way to sport green without the shine.
Both these hair colors are inspired by Pantone's lush meadow.
5. Mesmerizing Mustard
To be honest, yellow isn't my thing, but I think it's because it always means gold in makeup dictionary. Well, when we speak of hair, it doesn't have to be so bad. Just check out this mustard hair, which is like metallic gold's matte version. This one takes a cue from Pantone's spicy mustard.
6. Pretty Pink
When it comes to pink, you can go light or bold. For something light, there's bubble gum pink, which is a really cute, airy, light shade.
If you want to go daring, you have fuschia. Not everyone can deal with this color. It's just too intense, really, and is more fitting for ladies with fair or pale skin.
Either way, both of these pink shades can be likened to Pantone's Dusty Cedar.
7. Lovely Lilac
It's berry and purple season! And it applies to both hair and makeup. But since the point here is to look different but beautiful, why don't you go for lilac? It's a vibrant purple shade that reminds you of spring (how's that for beating the winter chill?). It also complements accessories and makeup that are of pink and red.
8. Glamorous Gray

If you're already wearing this year's granny or platinum hair, good for you! There's no reason to change hair color yet unless you want to try other choices here. If you haven't, don't be afraid to join the trend. It's still on this season!
While you can sport whatever hair winter colors you like, it's always nice to find the right one. To help you out, you better watch this video:
Aren't these hair winter colors absolutely lovely? They're even a lot of fun and an awesome way to update your look and pleasantly surprise your friends and family. But always remember, color-treated hair needs extra loving. Use the right hair product, and you'll deal with only shiny, gorgeous locks without the frizz.
Are you ready to brave the winter chill this year? Worry no more! Here's the trendy Corey knit oversized sweater only at Mason and Ivy!
What is your favorite of all these winter colors? I super love number 7. Do you agree? Let me know your answer in the comments section. Want an easy way to color your hair? Check this out!
Follow our Facebook, Twitter, Instagram, and Pinterest accounts to get the latest makeup, hair and nail trends!