Declutter your vanity or bathroom! Check out these brilliant, cheap, and easy-to-make makeup organizers perfect for your lipsticks, palettes, and brushes.
RELATED: 13 Fun DIY Makeup Organizer Ideas For Proper Storage
Makeup Organizers and Vanity Storage Solutions You'll Love!
Declutter with These Brilliant Ideas for Makeup Organizers 
These creative and easy-to-find makeup organizers will give your lipsticks, eyeshadow quads, palettes, and pots an awesome home! Buy them cheap or make your own − your call.
Here's a question: Can you find your favorite lipstick for me? If you can't recall, then it's time to declutter your vanity and use makeup organizers.
We have here some of the best makeup organizer and storage ideas you can buy for cheap or DIY if you want to be more creative. The most important thing is you save yourself time and hassle when finding your well-loved makeup products!
1. Magnetic Board
One of the ingenious makeup organizers, this DIY helps put all your makeup in one vertical space. And, since you can mount this on the wall, you can save more space in your room or vanity.
Tip: Place all the makeup you wear on a daily basis on this magnetic board for easy access.
2. Acrylic Makeup Organizers
One of the more common makeup storage ideas is by using acrylic boxes. Clear and compact, you can store just about all your cosmetic products and not have to worry about losing one from your sight.
3. Ikea Alex 5 Drawer
The Ikea Alex drawer is another easy makeup storage solution. You can organize your makeup in different categories from top to bottom, and you can also fit plastic containers for separate compartments.
If you buy two, you can add a plank of thick wood, paint it with your favorite color, place it on top of the two drawers, and − tada − you have an instant home office desk. How neat is that?
4. Shoe Organizer
This hanging shoe organizer idea is excellent for dorms or small rooms. Just hang it by a corner or door and put your makeup into the pockets.
You can also put labels on the clear plastic pouch for better organization.
5. Mounted Mason Jars
If you want to save money on your makeup storage cases while still being artsy, you can do this mounted mason jar project! Mason jars are everywhere, and they're incredibly cheap (or you can recycle similar-sized jars).
Get a wooden plank, make it rustic by sanding it, coat it with new paint, add screw metal clamps fitting the opening of the jars, and insert the mason jars. That's it! You can attach hooks at the bottom too to organize your jewelry.
6. Candle Jars Makeup Organizers
Got some old candle jars lying around? Breathe new life into them by making them into usable and cute makeup storage. Simply place your makeup brushes into the jar or you can put some pebbles first for some added charm.
7. Ikea Makeup Vanity
This Ikea vanity hack with a clear glass top is another good way of organizing your makeup. The glass top allows you to see the makeup underneath while you can use the shelf space to organize other makeup in clear plastic or acrylic makeup organizers.
8. Glitter Jars Makeup Organizers
For a fancy take on the mason jar DIY makeup storage, cover half of the entire jar with glue then roll it over glitter. Add some vinyl decals for extra cuteness.
9. Clear Makeup Brush Storage
Clear plastic containers are easily bought at craft stores for a good value.
In order to create an efficient brush holder, don't forget to fill them halfway with plastic or iridescent beads so your brushes don't fall to the sides. Separate those brushes you use for your eyes and face, too.
RELATED: 12 IKEA Makeup Storage Ideas You'll Love
10. Christmas Gift Boxes
If you have unused or empty gift boxes, you can use them as incredibly cheap makeup organizers. You can create mini compartments to fit your blushes, compacts, or, in this case, lipsticks. Cover them with a piece of patterned fabric or paper so they'll look nicer!
11. Ikea Raskog Makeup Organizers
This Ikea Raskog hack allows you to have a rolling makeup storage unit in the house. Label each shelf to organize properly and set it up near your vanity mirror for ease of use.
12. Recycled Plastic
After drinking sodas and other beverages, don't throw those plastic bottles yet! You can cut and melt the edges using a flat iron to give you lightweight and inexpensive makeup organizers. Use different-colored plastic bottles for a splash of colors on your vanity.
13. Nail Polish Rack
There's more to your nail polish rack than keeping your hordes of coveted nail polishes. It is also a good way to store makeup in bullet-form containers like lipsticks, lip glosses, and some liquid foundation bottles.
You can also fit palettes in the rack, and you have a little corner to effectively hold your makeup.
14. Leather Brush Holder
Good for traveling, a roll-up makeup brush organizer or holder does not need to be expensive. You only need to get creative. Store your makeup brushes properly in this leather roll-up bag to keep them away from dirt and dust.
Unroll anywhere when you're out and about! Just in case leather isn't your thing, you can also use a sushi mat for your DIY makeup brush holder.
15. Medicine Cabinet
If you're one of those who spends most beauty-time in the bathroom, then this is one of the best makeup storage ideas for you! Make room for your makeup right inside your medicine cabinet (or built-in bathroom wall cabinet).
16. Recycled Paper Towel Tubes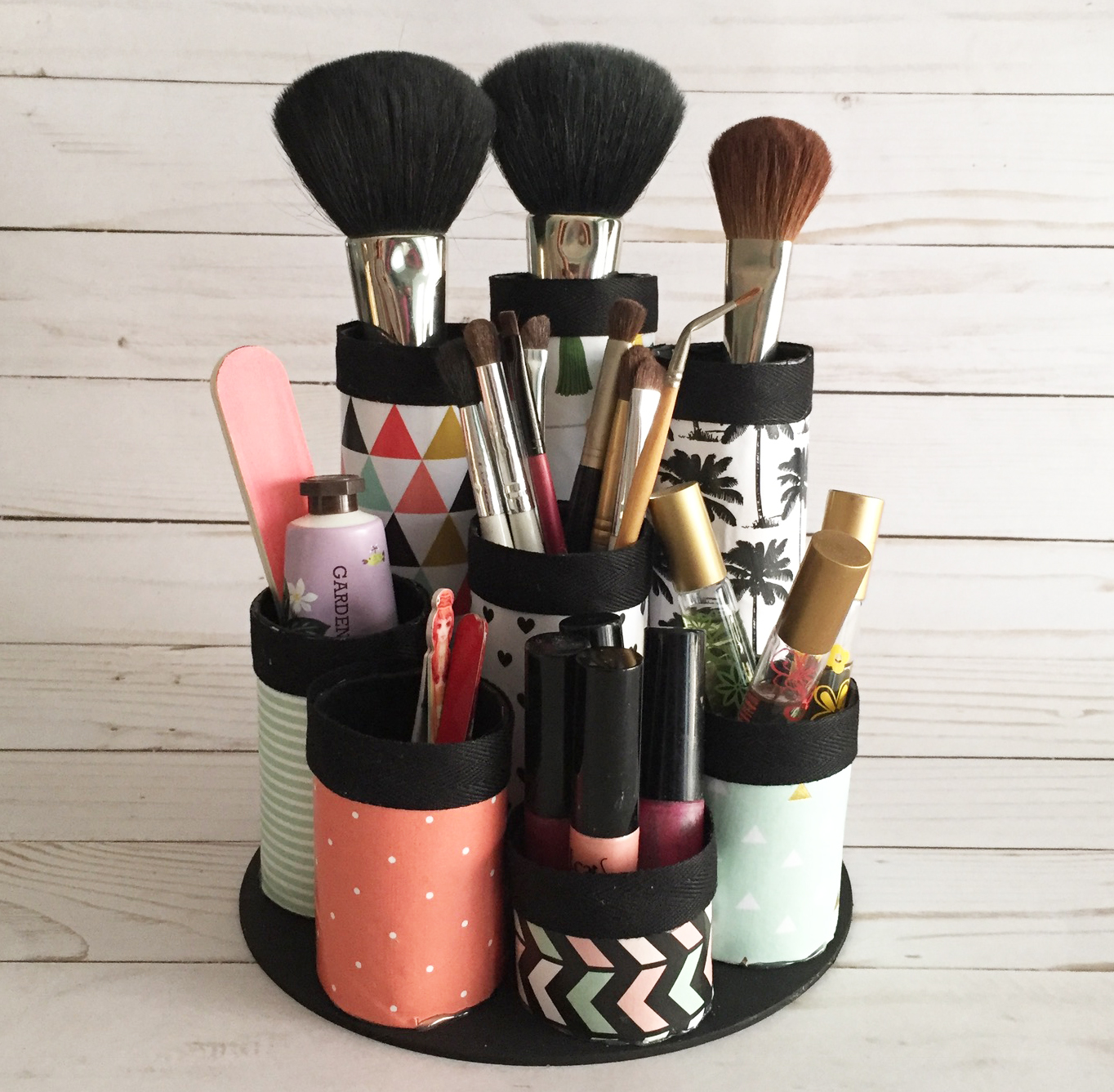 Looking for makeup organizer DIY ideas? This should be one of the easiest and simplest, yet chic and cheap at the same time.
Don't throw those paper towel tubes as you can make them into makeup storage. Simply wrap them with colorful or patterned paper and glue each on a plastic plate.
Be as innovative as you like! With this makeup organizing idea, you're one step closer to being zero waste.
17. Magazine Rack Organizer
Everything about this magazine rack palette organizer is awesome. No need to stack your eyeshadow palettes on top of each other.
It also fits your vanity table or your makeup cabinet − it's just genius.
Get crafty with your makeup organizers! See how to make some of them on this video by BrittanyVasseur:
Whether you have a lot of makeup or less, storing them is essential in keeping them clean and sanitized. Get creative and think outside the box with your makeup organizers!
Which ones from these makeup organizers do you dig? We'd love to know why it's your choice. Share your thoughts with us in the comments section below!
Up Next:
Follow us on Facebook, Twitter, Instagram, and Pinterest to get the latest makeup, hair, and nail trends!
Editor's Note: This post was originally published on May 5, 2017, and has been updated for quality and relevancy.