Step out of your home looking like you got a pro to do your hair with these DIY hairstyles for long locks! While your options for having a different hairstyle every day are endless, it's easy to end up with the same plain ponytail day in and day out. Girls help girls, so we're here to the rescue with these cute and lovely yet easy hairstyles for long hair to do at home. Wear a different hairstyle every day to match your makeup and OOTD!
Easy DIY Hairstyles Girls With Long Locks Should Wear
1. Boho Braid
Don't feel like washing your hair today? Take advantage of your messy hair by doing the boho braid hairstyle. Don't worry, even if you're not good at doing braids, you can easily manage this one. You can try this hairstyle on messy straight hair, but I suggest you curl your hair a bit to give it that boho vibe.
2. Twisted Bun
Are you looking for an updo which looks elegant and sophisticated but less the hard work and effort? This twisted bun DIY hairstyle is a must-try! All you need to do is tie a knot and secure both hair sections with bobby pins.
3. Curly Updo
[instagram url=https://www.instagram.com/p/BR8_BHSl5wy/ hidecaption=true width=625]
For an easy hairstyle to wear for a wedding, I prefer a curly one or an updo. Let's put them together to create a curly updo which looks gorgeous on anyone! If it's for your wedding, you can add some flowers like the one shown above. If you don't like the neat look that much, you can keep the front part of your hair loosely curled. You'll be thrilled to know this hairstyle is Beauty and the Beast Belle-inspired!
4. Tuck and Cover French Braid
|

Running out of time to go to a stylist? This tuck and cover French braid will make you look poised and pulled together. This hairstyle is pretty versatile, which is one of the things I love about it. I can wear it with practically anything from tee and jeans to dresses! Can't believe how easy it is to do this too!
5. Party Perfect Ponytail
|

I'm a ponytail lover. And in the summer, I almost always wear my hair in a ponytail on a daily basis. It's easy to do, it keeps my hair out of my face, and it's very comfortable to wear. So, when I'm going to parties, I try and find a ponytail hairstyle that makes me feel good as well. I like how messy and pretty this hairstyle looks. To add some sass, I like curling my hair.
6. Messy Bun
The messy bun and ponytail are fierce competitors in my book. Both are my go-to DIY hairstyles and I really adore them. Both are very easy to do. So how do I choose? I pick the ponytail if I'm spending more time outdoors and the messy bun hairstyle when I'm indoors so the strands don't go to my face (I hate that!).
7. Braided Rose
For women who love the half-up hairstyle, this is a good variation to try. The braided rose is simply adorable! When you walk down the street, people will think it's done by a professional stylist, but really, it was all you, girl! It's a perfect hairstyle for the summer and will really look great on your dainty dresses!
8. Twisted Crown Braid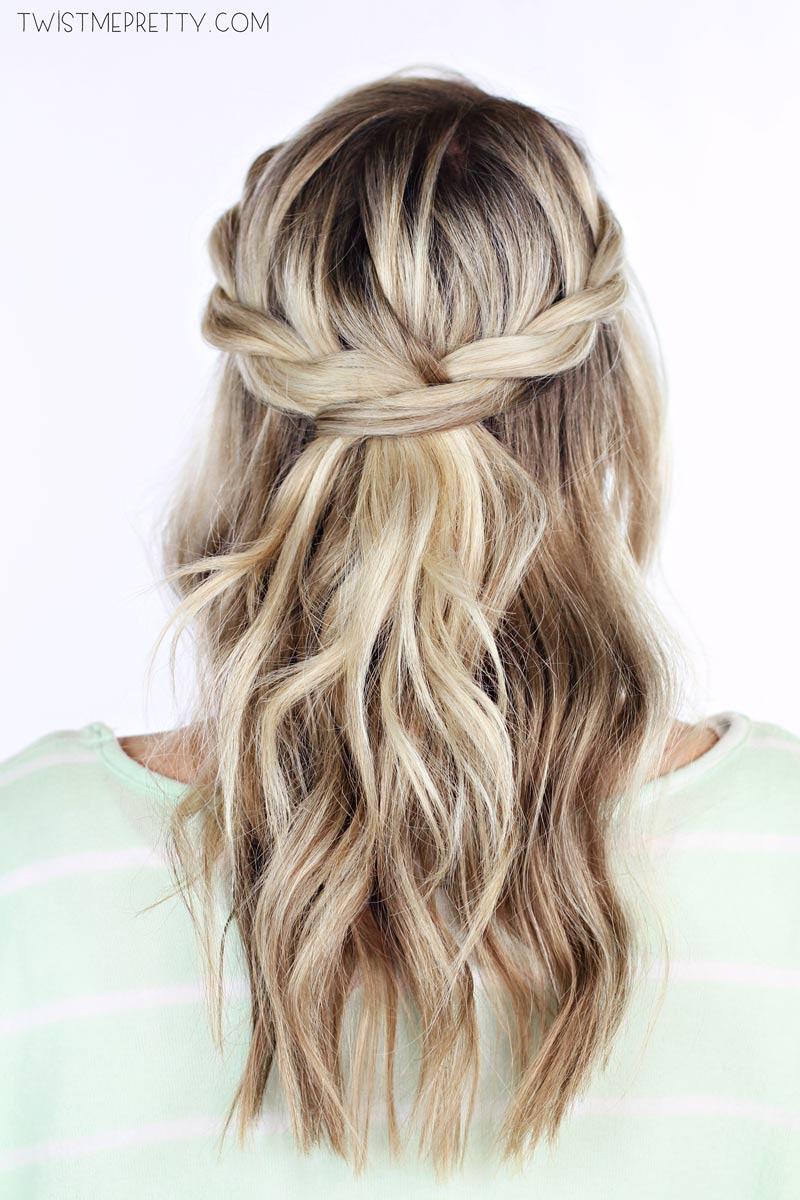 So maybe you like those Dutch crown braids but find them really hard to do? I've got something easier for you! Why not give this twisted crown braid a go? It's not as detailed as a Dutch braid, but it looks just as pretty on both straight or wavy hair.
9. Ribbon Half Updo
I'm bringing you back to those days where the bigger the hair, the more fabulous you are. Look at this half updo bouffant, isn't it beautiful? To add daintiness into this look, wrap your hair around a thin ribbon. Yes, it doesn't just look cute on kids − we can also rock this look, ladies!
10. Big Sexy Waves
[instagram url=https://www.instagram.com/p/Bghd6qJFrZ0/ hidecaption=true width=625]
And to complete the list of DIY hairstyles for long hair is everyone's favorite − the big sexy waves hairstyle! You know what? I know a lot of women who would go to the salon to get this look. Maybe they can't be bothered with doing it at home or can't find the right technique to do so. But hey, why spend money to pay someone else to do it when you can easily DIY, right? And trust me, ladies, after some practice, you can make big sexy wavy hair even with your eyes closed!
Watch the video below by Missy Sue for another stunning DIY hairstyle for long hair:
How do you like these easy DIY hairstyles? Do you think you'll have the time to practice them? As you know, makeup and hair go hand-in-hand. To look great all the time, you have to practice both skills. You don't have to be a hair expert to pull off a pretty hairstyle. That's the thing with hair, you just need to guide your hair in the right direction and it will naturally fall into place. Enjoy practicing, ladies!
What's your favorite from our list of DIY hairstyles? Please sound off in the comments section below!
Up Next: The Ultimate Hairstyle Guide For Your Face Shape
Check out our new store Scrumptious for makeup products, clothes, accessories, and more!
Follow us on Facebook, Twitter, Instagram, and Pinterest to get the latest makeup, hair, and nail trends!
Editor's Note: This post was originally published on August 30, 2017, and has been updated for quality and relevancy.