Do you need help in rounding up fabulous Mother's Day gift ideas for your dear mom? Look no further love, we have the best list of gifts here that can make your mom smile from ear-to-ear!
12 Mother's Day Gift Ideas to Spoil Mom With
Mother's Day is in May and while we've still got a month left to plan the perfect gift for mom, we're already brainstorming what the perfect gift for mom might be. Shopping for loved ones is the hardest thing there is, so we're here to make your job much, much easier. In fact, we're making it so easy that all you have to do is decide which of the many awesome gifts from this list to get her. We've rounded up the best beauty Mother's Day gift ideas here. Check them out:
Makeup Gifts for Mom on Mother's Day
Let's put our knowledge as a makeup junkie to good work. Give your mom the best makeup products that she probably won't shop for herself.
1. Too Faced Natural Love Ultimate Neutral Eye Shadow Palette | Mother's Day Gift Ideas
You know how our moms tend to easily get into a makeup routine where they would only use two shades of eyeshadow every single day? Well, scrap that! Give your mom an eyeshadow palette like the Too Faced Natural Love Ultimate Neutral Eyeshadow Palette. It features 30 eyeshadow shades ranging from neutral to pinks and golds. There's a good mix of shimmers and mattes. This will help your mom become more adventurous with her eye makeup and probably, be inspired to create new looks for herself too!
2. Smashbox Be Legendary Cream Lipstick Palette | Mother's Day Gift Ideas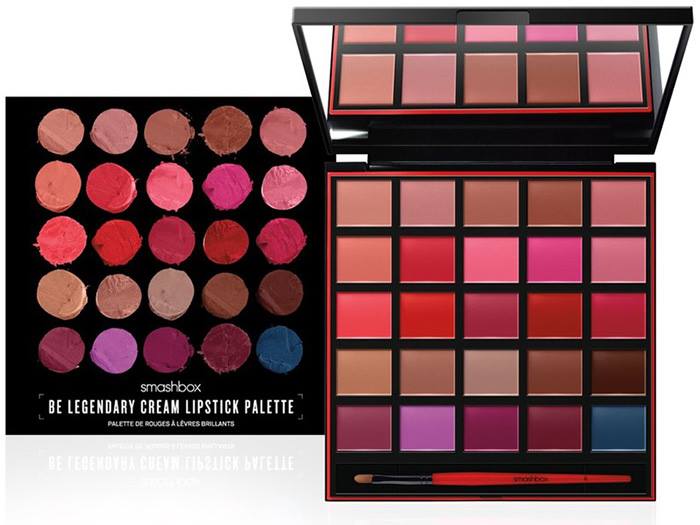 Another genius Mother's Day gift idea for your mom who loves makeup is a lipstick palette! This Smashbox Be Legendary Cream Lipstick Palette will really save her the time of day. No need to dig through a bunch of lipstick tubes because she will have everything she needs to pull off a perfect pout with this palette!
3. M.A.C. Look In A Box Downtown Diva | Mother's Day Gift Ideas
If you want to give mommy dear a makeup set where she can create a look instantly, the M.A.C. Look in the Box is what you need. This one I chose is Downtown Diva and I recommend this for the reason that I want our moms to be more bold and adventurous with their makeup. This look in a box has a street-chic theme with the Hot Pepper lipstick as the star! I'm sure even mom can't resist the red lipstick.
4. Tarte Make Believe In Yourself Magic Wands Brush Set | Mother's Day Gift Ideas
If I know one thing about my mom, it's that she won't be bothered shopping for new makeup brushes to replace her old ones. She told me that there's just so many kinds now and it's all too confusing. So, I reckon, why not give our moms a new and high-quality makeup brush set, like this beautiful Tarte Make Believe In Yourself: Magic Wands Brush Set! Our moms may not splurge on this one, but thankfully, we're here for that!
Skin Care Gifts for Mom on Mother's Day
While makeup can help accentuate features, hide the pores, fine lines, and wrinkles, nothing beats a skincare regimen with the best skincare products out there! Let your mom's glow shine from within.
1. Origins Day & Night Refreshers | Mother's Day Gift Ideas
One of the perfect gifts to give your mom this Mother's Day is an Origins skincare gift set. This one I picked is for both day and night use, which is awesome because our moms don't really like using tons of products altogether. This gift set focuses on helping the skin become more radiant and energized–just what mom needs! This comes with night renewal cream, eye cream, charcoal face mask, and an energy-boosting moisturizer!
2. Clinique Clean Skin Great Skin Gift Set | Mother's Day Gift Ideas
Who doesn't love Clinique? No one. These Mother's Day gift set called Clean Skin Great Skin is designed for different skin types. It follows a 3-step skin care system, which Clinique calls the Clinique Sonic System. The set comes with the special Clinique Sonic System Purifying Cleansing Brush, plus the facial soap, lotion exfoliator, and moisturizing gel–the perfect set to moisturize your mom's skin!
I'm thinking of recreating this look for my Mother's Day date with dear mommy. What do you think?
https://www.instagram.com/p/BQmLSxFlyO1/
3. Charlotte Tilbury Charlotte's Magic Cream | Mother's Day Gift Ideas
They won't call it the magic cream for anything, right? Adored by A-listers, celebs, and models, Charlotte Tilbury's Magic Cream, this will work wonders on mom's skin. It deeply moisturizes dry skin with its BioNymph Peptide Complex, hyaluronic acid booster, and floral extracts. Not only will it keep the skin hydrated and moisturized, it will also help give the skin a lift. Your mom will surely enjoy her plump and youthful skin after she uses this one.
4. Kiehl's Midnight Recovery Botanical Cleaning Oil | Mother's Day Gift Ideas
I love Kiehl's! They make great skin care products! I admit, they're a bit on the pricey side but the effectiveness is really worth it. So if you want to help out your mom restore her beautiful skin and keep it healthy too, Kiehl's Midnight recovery line is definitely one to consider. Not only does it smell like you're lying down on a lavender field, the quality of this product is undeniable. Two thumbs up!
Body Care for Mom on Mother's Day
Pamper your mom on Mother's Day with these body and hair treats that she'll definitely enjoy. It's your mom's day and she deserves the best pampering!
1. The Body Shop Coconut Oil Premium Selection Gift Set | Mother's Day Gift Ideas
When it comes to body care, The Body Shop won't fail you! Plus, it has one of the best gift sets for Mother's Day too! Why did I choose this? Because coconut has so many benefits for the skin! This Coconut Premium Selection Gift set includes a shower cream, body butter, body scrub, body mist, and a hand cream. Indeed, a complete package!
2. Laura Mercier Body & Bath Creme De Pistache Scrub | Mother's Day Gift Ideas
Laura Mercier has great makeup and skincare products. But for Mother's Day, this tasty body scrub is on top of the list. If mom is a fan of pistachio, she'll fall in love with this creamy and nutty scented body scrub. How creamy and nutty you ask? It's formulated with pistachio, almonds, hazelnut, and whipped cream! There's no doubt the body will feel reinvigorated after use!
3. Elizebeth Arden Red Door Value Gift Set | Mother's Day Gift Ideas
Are you looking to give mom a good perfume? Why don't you give Elizabeth Arden's Red Door a try? The scent is that of rare florals and the set includes both the perfume and body lotion. The fragrances is described as "Glamorous. Elegant. Sophisticated." just like mom!
4. Philip Kingsley Spa Treatment Kit | Mother's Day Gift Ideas
After pampering the body, it's time to give the hair it's much-deserved TLC! And there's no better product to pamper the hair with than this Philip Kingsley Spa Treatment Kit! The kit follows a 3-step regime with the goal of soothing, stimulating, and strengthening the hair and the scalp. This kit comes with a stimulating scalp mask, elasticizer, and daily damage defense. This product is best for fine, medium coarse,  and African-Caribbean hair.
Aside from the gifts, get your hands working by baking mom a Mother's Day carrot cake! Check out how from Sarah Carey:
Wasn't that a great list of Mother's Day gift ideas? You know how I know? Because I want each one too! But anyway, buying your mom a present is sweet and thoughtful, but let's not forget that showing appreciation to your mothers is always more important. Spend time with her. Let her know she is loved and special. It's not the amount of the gift that matters, it's how your mom will feel once the day is over. Tell her how important she is to you and the family and that's the best Mother's Day gift ever!
Have gift ideas of your own? Share them with us and our readers in the comments section below!
Planning to treat mom to a salon makeover? Make sure she got the right hairstyle with our Ultimate Hairstyle Guide For Your Face Shape!
Follow us on Facebook, Twitter, Instagram, and Pinterest for the latest makeup, hair, and nail trends!
Editor's Note – This post was originally published in April 2016 and has been updated for quality and relevancy.
Featured Image via joycelauofficial